At RevelX, Lean Startup is one of the methodologies that we propagate. This approach aims to shorten product development cycles and rapidly discover if a proposed business model is viable. This comprehensive article answers all your questions about Lean Startup.
Popularised by writers and entrepreneurs like Eric Ries and Steve Blank, Lean Startup was conceptualized as a way for new ventures with limited resources to tune into customer needs, and to develop and launch new products and services. The methodology aims to shorten product development cycles and rapidly discover if a proposed business model is viable. This is achieved by adopting a combination of business-hypothesis-driven experimentation, iterative product releases, and validated learning.
Of course, Lean Startup is mainly associated with the creation of new companies. The approach is also applicable to bigger organizations, though. While the approach applies to the whole organization in a startup setting, within larger organizations, it is about optimizing or kickstarting one specific part of the business. For example, a big media company can apply the methodology to the development and launch of a specific application.
5 Advantages of Lean Startup
In the corporate world, Lean Startup really works. Corporate players from a wide range of industries attest to that. According to a poll from HBR, the top five benefits of the Lean Startup approach mentioned most frequently by their corporate respondents were:
Making decisions based on evidence and data, rather than executives' instincts.
A faster cycle time for developing ideas.
Better quality feedback from customers and stakeholders, often because they're asked to actually buy something, rather than to just spout opinions in a focus group.
"Getting out of the building" (speaking to and observing real customers and stakeholders).
More flexibility about making changes to ideas as they progress from concept to minimum viable product (MVP), then to finished product.
3 Successful Lean Startup Case Studies
The feasibility of Lean Startup is also proven by some successful examples.
1. Dropbox
Dropbox started with an MVP: a simple video that briefly explained the effect of the product that the makers wanted to launch. The video was very successful and gave the company the valuable feedback that enabled them to validate their core assumptions.
Subsequently, Dropbox started iterating its early product rapidly in order to test what customers really wanted.
2. Votizen
In 2007, David Binetti launched Votizen, a platform that organizes US voters online, as an MVP. As Eric Ries described in his classic book The Lean Startup, the first MVP was not a big success. In the initial cohorts, only 5% signed up for the service, and 17% verified their registered voter status. "It was time to start iterating," Ries wrote.
"David spent the next two months and another $5,000 split testing new product features, messaging, and improving the product's design to make it easier to use. Those tests showed dramatic improvements, going from a 5% registration rate to 17%, and from a 17% activation rate to over 90%. Such is the power of split testing. This optimization gave David a critical mass of customers [.]"
This whole process of building, iterating and measuring is the core of Lean Startup. It was the beginning of a success story. In September 2010, Votizen announced it had raised $1.5 million in funding. Three years later, Votizen was acquired by Causes, an online civic engagement platform founded by Sean Parker.
3. BDR Thermea
BDR Thermea is a world leading manufacturer and distributor of sustainable smart climate and sanitary hot water solutions and services. BDR Thermea operates in more than 70 countries worldwide.
The international market for heating, ventilation and air conditioning systems is changing rapidly. Innovative new solutions are introduced by disruptive, new players. For BDR Thermea, innovation is a key source for growth. Now, more than ever, successful innovation is a key competitive factor.
In close cooperation with representatives from the BDR Thermea operating companies, RevelX designed and managed an ambitious program to improve innovation capabilities and execution. The core of this program consisted of three elements:
bringing in the voice of the customer to the product development process
shortening the time to market
lowering the cost price
The program was implemented in the entire BDR Thermea organization, involving over 600 people who were involved in the product innovation process across eight countries. The program enables BDR Thermea to reinforce its top-5 position in the market and accelerate growth with an effective and efficient innovation process.
How To Implement Lean Startup In Your Organization?
Deploying Lean Startup in your organization is all about taking small steps. This helps to quickly test assumptions about your plan, your customers, and the earnings model, and adjust them if necessary. Examples of important assumptions for testing are:
Does your idea really solve a problem for the customer?
Is there a market for it?
Are customers willing to pay for it?
Is the technology available to realize it?
You can test your presuppositions through experiments. The two most common "flavors" of testing are A/B testing and the MVP methodology. We recommend Google's Design Sprints to create an MVP quickly and efficiently.
After determining your key performance indicators (KPIs), you use your MVP to make a first measurement. Then you consider what your target metric is. Subsequently, you improve based on a constant test-and-learn cycle. In other words, you continuously ask the target group for feedback and use that information to develop rapid iterations for your product. Finally, launch and scale your proposition.
Lean Analytics is an extension of the Lean Startup method. As Benjamin Yoskovitz and Alistair Croll write in their influential book Lean Analytics:
"Lean Startup helps you structure your progress and identify the riskiest parts of your business, then learn about them quickly so you can adapt. Lean Analytics is used to measure that progress, helping you ask the most important questions and get clear answers quickly."
More specifically, Lean Analytics is a great method to streamline your sales funnel. The core idea behind this approach is this: by knowing the kind of business you are and the stage you're at, you can track and optimize the most important metrics that matter to your business right now.
Yoskovitz and Croll describe in their book the Five Lean Analytic stages every startup goes through:
Empathy
Get to know your customer and what problems they want to solve. Then, build a product that will solve one or more of these problems.
Stickiness
Is your product sticky? Give it to the users and see if they will be engaged.
Virality
This stage is about user acquisition. In other words, the onboarding process.
Revenue
In this state, you start to think about how to monetize your product.
Scale
Finally, it's time to grow your market!
How to Apply Lean Analytics
Just like many other approaches, Lean Analytics has spawned its own canvas, a comprehensive tool that helps you to apply the method. The talented Scrum expert Nicolas Nemmi created the Lean Roadmap Canvas.
Nemmi's canvas is made up of the following boxes that you have to combine with the Five Lean Analytics stages described above:
Trigger: What gets the user to the product? An example can be an advertisement or a word-of-mouth
Action: What is the simplest behavior in anticipation of reward? In other words, you have to make the buying process as frictionless as possible. Amazon's 1-Click Ordering process is a good example that accomplishes this goal.
Variable reward: Is the reward fulfilling, yet leaves the user wanting more? Netflix and candy manufacturers are great at this!
Investment: What is "the bit of work" done by the customer to increase the likelihood of returning? For example, the value of social media increases when more contacts are added.
Using this canvas works as follows. Go through the following instructions for each subject:
Choose a desired outcome for the first box.
Select the dates against which a feasible goal is measured and set that goal.
Make a list of actions or functionalities that help achieve this goal.
Test and then implement one functionality at a time and measure how it impacts the data.
When you have reached your desired goal, you can proceed to the next box.
The Lean Startup approach can take many forms. The MVP is the most well-known method, but certainly not the only one. The most important thing is to work in short cycles, to be flexible, and to be as customer-centric as possible.
Are you at the beginning of a Lean Startup process and do you need some help? I would be pleased to help you!
Innovation

Readiness

Benchmark
Do you want to measure yourself against best-in-class innovators?
---
Read More
---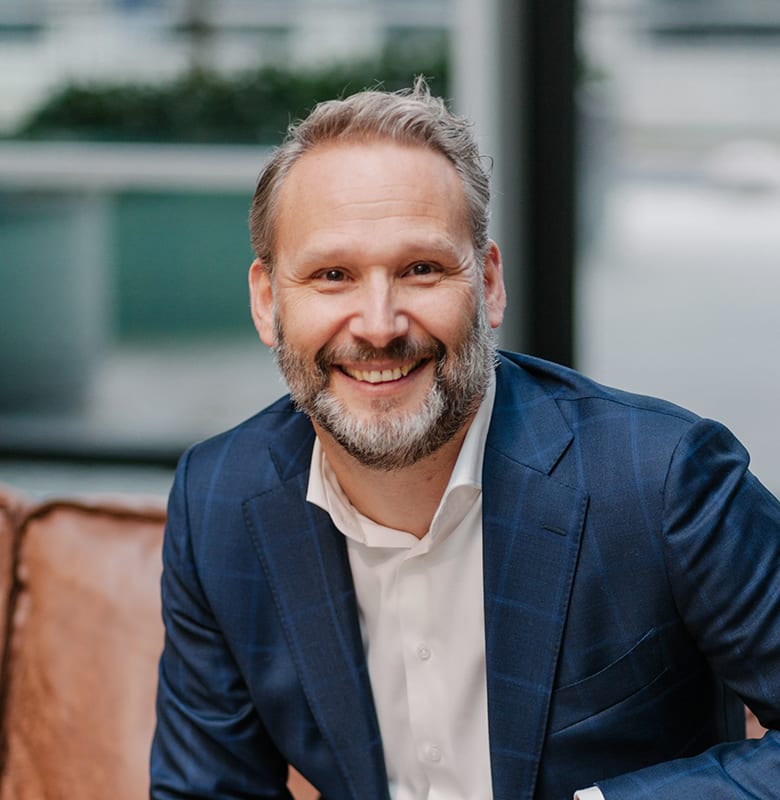 René Jongen
Specialist in top line growth. Supports both corporates that are under a lot of commercial pressure and businesses that are looking for ways to accelerate their growth. Technical physicist. Builds on psychology and neuro-marketing insights.