The ideation process can be a playground for adults. Roleplaying, brainstorming, or a mock trial – these are just some of the many possibilities. Read on to learn everything you always wanted to know about ideation.
"It's such fun; I can't imagine why my boss is paying me to do this!"
That is one of the most commonly heard comments when I preside over a RevelX ideation session. I fully understand this sentiment because the flowing of creative energy can be refreshing and inspiring. I will tell you a little secret: for me, managing an ideation session does not feel like a workday either. It is great to see creativity grow in real time.
The Ideation Process Defined
Indeed, ideation is all about creativity. I define the concept as a creative process of generating, developing, and communicating new ideas. Ideation is comprised of all stages of a thought cycle from innovation, to development, to actualization.
There are countless innovative and inspiring methods to ideate. Apart from the well-known formats (brainstorms, workshops, and hackathons), what about these other awesome manifestations of the ideation process?
This method's goal is to achieve a shared vision. First, a problem analysis is made with regard to the subject, and gaps in knowledge are detected. Participants are then briefed, a questionnaire is created, and selected participants are asked to complete the questionnaire.
Then each participant receives the anonymous contributions from the other participants and can adjust according to her own contribution. This happens in a number of iterations until a common position is reached.
Yes, it is just what you think this is: the performance of a courtroom drama. This method can be used as an alternative to a conference on a specific subject where pros and cons will be discussed.
The positions and arguments for the prosecutor, attorney, and judge have to be drawn-up well in advance. These parts should be played by professional actors.
This method begins with a negative statement, e.g., "This merger will fail because…"
Then, in a brainstorming session, every participant writes down all the reasons they can think of for this failure. Subsequently, a random participant is designated as a problem solver. and the rest of the group functions as his/her advisor.
The problem solver selects the main problem and asks the group the question: "How do I now ensure that this is reversed?"
The advisors will brainstorm possible solutions, and the problem solver will choose the best advice.
Then, the best advice is formulated in this way: "This will not work because…," and the cycle starts again until all bottlenecks are identified and dealt with.
9 Tips for an Awesome Ideation Session
Now, you have some options to set-up your own ideation session. Before you do that, I want to give you some advice based on years of experience. The tips below will make your process both pleasurable and effective:
There are no bad ideas. Let everyone's creativity run free and later separate the wheat from the chaff.
Capture everything that is said and done because people tend to forget even the best ideas when they do not take notes.
Ensure the right mix between tightness and looseness.
Make the ideation session safe, comfortable, and pleasant.
Pull the participants out of their comfort zone.
Go for the essence, not for completeness.
Promote lying and laughing and stimulate fantasies and dreams.
Don't try to squeeze ideas from the audience, but just let them happen.
Ensure the correct follow up.
Ideation sessions can truly result in awesome propositions. Take, for example, the work we did with our partner Vanderlande.
This business is the world market leader in luggage handling at airports and a major player in material-handling systems for warehouses. Yet, when redefining their strategy, Vanderlande realized that international airports are faced with big challenges regarding space constraints and flexibility to accommodate the spikes in travelers using their airport. These include challenges that the traditional conveyor-based solutions of Vanderlande (and its competitors) could not easily address because they cannot be easily scaled up (or down) and require lots of expensive square meters that airports would rather use for more lucrative purposes.
During an ideation session with their senior team, Vanderlande's traditional business model was fundamentally rethought. The solution was to invest in a completely new concept using Automated Guided Vehicles instead of bulky conveyor systems. Thanks to state-of-the-art technology and a fundamentally different design, the new FLEET concept is much more flexible and uses significantly less expensive space.
This disruptive idea has recently resulted in a first pilot that, if successful, will be scaled up and will likely shake up Vanderlande's market.
We Accompany You on Your Innovation Journey
At RevelX, we have our own unique ideation process: the Innovation Journey. By splitting the development and launching of a new product into 3 parts, the process is simultaneously simple and effective. This structured approach is linked to the specific methods and tools that we use to accompany organizations in their innovation process. Do you want to know more? Click here!
Innovation

Readiness

Benchmark
Great! So you want to measure yourself against best-in-class innovators?

Our Innovation Readiness Benchmark helps you to assess your innovation power and gives you a valuable insight in the areas where you need to improve.
---
Participate in the benchmark
---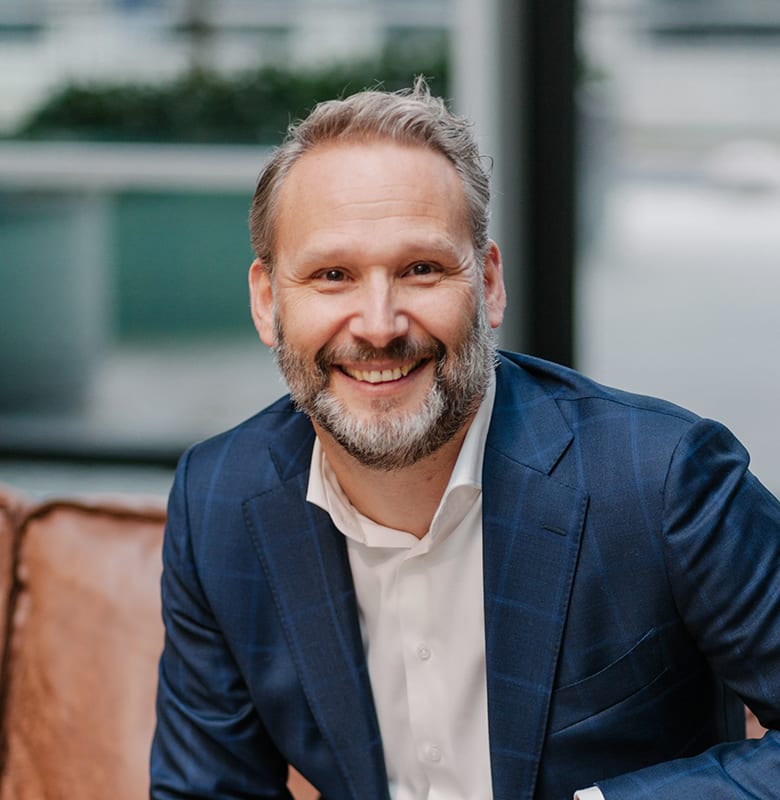 René Jongen
Specialist in top line growth. Supports both corporates that are under a lot of commercial pressure and businesses that are looking for ways to accelerate their growth. Technical physicist. Builds on psychology and neuro-marketing insights.