For several years, the Internet of Things has been cited as one of the biggest trends in business. At the same time, many entrepreneurs don't know how to practically incorporate IoT into their business.
The Internet of Things (IoT) results in an explosion of data from devices and machines connected to the Internet. Forrester Research even predicts that IoT will become the backbone of future customer value.
According to a recent Forrester report, marketers will wake up to the IoT opportunity this year. They will extend their mobile strategy to include new interfaces with smart home speakers or smartwatches. Blockchain-based IoT adoption will rise to 5%, and new European guidelines will give the green light for commercializing IoT data.
3 Case Studies of IoT in Business
I meet many business leaders. Many of them think IoT is something other businesses do; they don't see it as a realistic option to explore for themselves. I think they are missing great opportunities. Below I give 3 examples of how companies can take advantage of IoT.
1. IoT Helps You To Know Your Customer Better
Through IoT, consumers generate more data than ever. That opens up great opportunities!
Take, for example, iBeacon technology. Using the Bluetooth low-energy radio signal on customers' smartphones, the protocol can be used to determine the device's physical location. iBeacon can track customers or trigger a location-based action on the device such as a check-in on social media or a push notification.
Dutch beer giant Heineken has had positive experiences with iBeacon. Celebrating the 2015 release of James Bond movie Spectre, the technology was used to draw in-store supermarket shoppers to an interactive display. In New Zealand, Heineken has introduced an app that sends prizes, such as helicopter rides, to users who visit venues which feature iBeacon technology.
2. IoT Predicts the Future
Machine-generated data can be analyzed to predict when an action is needed. This increases efficiency and decrease costs.
This so-called "predictive maintenance" is decreasing malfunctions in elevators. "I call it the 'virtual troubleshooter,' " as ThyssenKrupp's Dr. Rory Smith put it. "When the elevator reports that it has a problem, it sends out an error code and the 3 or 4 most probable causes of that error code." The monitoring systems deliver the real-time data to technicians which results in a dramatic increase in uptimes.
Predictive analytics is making inroads in the transportation industry, too. Fleet management is a case in point. While complying with stringent safety and environmental regulations, fleet operators strive to achieve the lowest possible total cost of ownership (TCO) for their fleets. By harnessing the power of IoT data, the shortest routes can be identified resulting in lower costs that also help reduce pollution.
3. We Will Work Smarter Through IoT Solutions
IoT can contribute to a more efficient use of commercial buildings. Connected devices collect enormous amounts of data. After an analysis of this data, a more sustainable and more efficient operation can be realized.
Some examples are the efficient use of office space, optimization of the indoor climate, and the detection of energy and water leaks.
And you? Where does your business step in? To explore the possibilities IoT can offer you, I recommend you ask yourself these questions:
Do I have a clear picture of the data my company has in its possession and the data our customers, machines, and systems generate every day?
Can some of this data be combined, resulting in new insights?
Can some of this data help me optimize processes or decrease costs?
It might seem scary to start with IoT, but we can help you get started. At RevelX, we help our customers generate IoT business ideas in our Value Proposition Design and Business Model Design workshops. We can also help you in crafting Minimal Viable Products and bringing these to your (launching) customers. After market traction has first been generated, we can help you scale and build up the organization needed for seamlessly embedding the new business into your regular processes.
---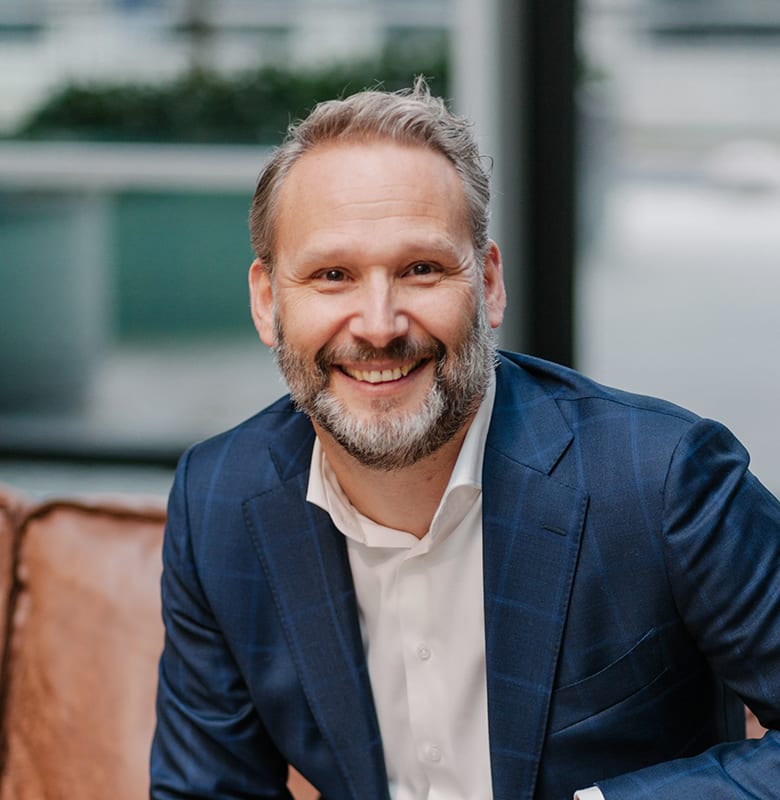 René Jongen
Specialist in top line growth. Supports both corporates that are under a lot of commercial pressure and businesses that are looking for ways to accelerate their growth. Technical physicist. Builds on psychology and neuro-marketing insights.