The Business Model Canvas is a tool that helps you to formulate a better business model. This model has inspired others to design their own canvases. For example, RevelX uses canvases that are specifically tailored to companies that want to grow.
When the Swiss Alexander Osterwalder wrote his doctoral thesis, his thesis supervisor, Yves Pigneur, was asking himself the question how a business model could be simplified to only one page. "The goal, however, wasn't to come up with a business plan," as Osterwalder would later explain. "The actual question was rather how to model a business model."
Enter the Business Model Canvas
This idea resulted in the now famous Business Model Canvas: a method to design a business model by including it in a graphical diagram. Decision-makers in a company can print this model on a large sheet of paper and fill in the boxes. This process will help them to better understand how their business delivers value.
The process of filling in the print-out results in the same creativity as a brainstorm but has the extra advantage of a structured approach. As Osterwalder summarized it in the above-cited interview:
"[O]ne works a lot more efficient when using a tool. I always do the analogy: If I give you a nail and tell you to hammer it into the wall with your bare hand, you will realize right away that this doesn't make any sense. In business it is the same thing. We don't use tools, but rather try again and again to hammer this nail into the wall with our bare hands."
I agree completely! Tools such as the Business Model Canvas are powerful tools. That is why we deploy our own canvases at RevelX which are specifically tailored to businesses that want to innovate and/or grow.
Let's begin with the Growth Experiment Canvas. We use this to help clients who want to design a growth strategy.
We invite the participants in our workshops to fill in the following boxes:
Growth Objectives: What are the short-term growth objectives you wish to realize?
Key Metrics: For each growth objective, what are the key metrics to measure success?
Key Targets: For each growth objective and metric, what are the current and target values?
Growth Team: Who is in your multi-disciplinary growth team? How much time can they contribute to experimenting each week?
Key Stakeholders: Who are the key stakeholders inside and outside your organization that you need to involve, inform, and/or manage?
Tools / software: What tools and software do you need to conduct your experiments? To which existing platforms do you need data access?
Experiment budget: What is the monthly experiment budget you need to conduct your experiments? Includes: tools, ad-spend, agency fees, etc.?
Awareness: What are the experiments creating initial awareness of your brand/offerings with your audience(s)?
Acquisition: What are the experiments contributing to initial interest from and engagement with your audience(s)?
Activation: What are the experiments activating your audience(s): sign-up, trial, initial contact, and interaction.
Revenue: What are the experiments facilitating the sale/transaction and increasing conversion?
Retention: What are the experiments motivating customers to come back, buy again, cross-sell and/or up-sell?
Referral: What are the experiments boosting loyalty, advocacy, and referral to others?
Download the canvas
Another canvas inspired by Osterwalder is the Persona Canvas. We use this model to help our clients better understand their customers. As you should know, in marketing, a persona is a fictional character created to represent a user type that might use a site, brand, or product in a similar way. Personas are useful in considering the goals, desires, and limitations of consumers in order to help to guide decisions about the customer journey.
So, to better understand your customer, you have to create a persona. The canvas offers the following traits that you have to fill in:
Demographics
Personality
Motivations
Preferred channels
Interests
Goals
Pains
Quote
Key reason to buy
Deal-maker
Deal-breaker
Download the canvas
If you know your ideal customer, the next step is to delineate her customer journey. To accomplish this, we use the Customer Journey Canvas which consists of 3 parts:
Search Journey: All customer journey steps related to awareness, research. and consideration;
Buy Journey: All customer journey steps related to configuration, purchase, and fulfillment;
Use Journey: All customer journey steps related to use/experience, service, and retention.
Download the canvas
---
Do You Want to Play with Us?
Each and every time that we use these canvases at RevelX workshops, I am delighted to see the enthusiastic reactions of participants. There are many great ideas in most organizations; the canvases give those the chance to come to fruition resulting in smiling faces.
So, print our canvases on large sheets of paper and get started! Need help? Play the DISRUPTR game with us.
---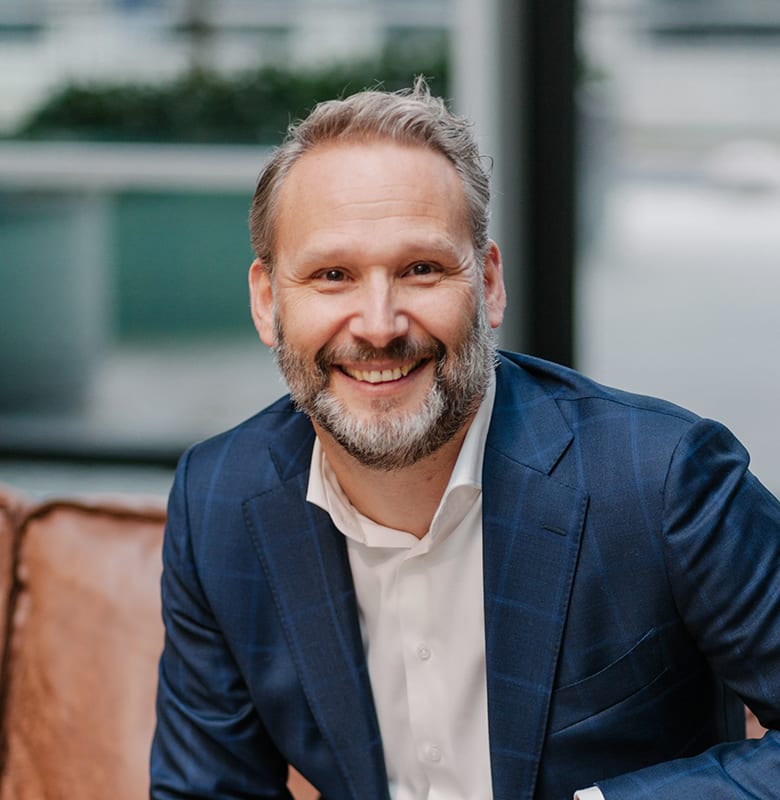 René Jongen
Specialist in top line growth. Supports both corporates that are under a lot of commercial pressure and businesses that are looking for ways to accelerate their growth. Technical physicist. Builds on psychology and neuro-marketing insights.