Content marketing works. But great copy and video are not enough. Your organization has to embrace a culture of content.
As a professional in the digital age, you are probably already convinced of content marketing's value. Just a couple of nice blogs and vlogs are not enough, however. Your entire organization should become a well-oiled content creation machine. Otherwise, content marketing can become a burden instead of an advantage. How do you accomplish this?
1. Determine Your Position in the Content Maturity Model
There are several stages in building a culture of content. Author Robert Rose has developed a maturity model for content marketing that can be applied to your organization. This model determines the maturity of an organization based on the effect that is being achieved with content.
As summarized in Joe Pulizzi's great book, Epic Content Marketing, Rose's model is comprised of 3 organizational phases:
Content aware: An organization uses content to cut through the noise of interruption-based advertising and drive trusted awareness into their products or services. The classic example is inbound marketing.
Thought leader: The organization strives for a more customer-oriented approach, wants to develop confidence in its brand, and wants to attract customers with the help of a funnel. Examples are blogs and whitepapers.
Storyteller: At this stage, the organization integrates content into a larger brand narrative and draws prospects, customers, and influencers into an emotional relationship with their brand. Examples are media about the brand that connect emotionally with the audience such as the Coca-Cola Journey
This model helps you to determine where you stand now, and what you need to do to reach the next step in your content marketing strategy.
2. Get C-Suite Executives Involved
To be successful with content marketing in your organization, it is important to request the commitment of management and other stakeholders. Convince them of the usefulness and necessity of content. This will prevent future conflicts about effectiveness, time spent, or budgets.
Fortunately, many CEOs understand the power of content. Global digital reputation consulting firm BRANDfog studies the significant role that social media plays in the development of industry leadership, brand trust, and brand reputation. Here are some results from their latest survey of CEOs:
93% of respondents agree that CEOs who actively participate in social media can build better connections with customers, employees, and investors.
More than 9 in ten (91%) agree that social media is a powerful tool for building thought leadership and enhancing the credibility of C-Suite executives with stakeholders, including the media.
Looking at this data, it is incomprehensible that there are still managers who think that only their understaffed communication department is responsible for content such as social media.
3. Embrace the Expertise of Every Employee
Getting C-Suite executives involved is not enough, though. To a certain degree, every employee is a content marketer nowadays.
Although the initiative and coordination for content come from the communication department, they should collaborate with other departments. Employees who are active in different phases of the customer journey will help to develop insights and help make the use of content effective.
Below are some examples of what employees can do:
Salespeople know the customers' wishes better than anyone else. These insights can be converted into relevant content and distributed through the networks of these co-workers.
Product managers have a lot of knowledge about developments and innovations inside and outside the organization. They can write articles, give workshops, or speak at conferences about their specialties.
Human resource people can use content to attract new talent.
4. Develop a Culture of Continuous Optimization
The advantage of the digital domain is that you are in a position to continually optimize your messaging. Develop a culture in which experimentation and continuous improvement is the norm. You can improve various elements of your content:
Copy: Consider the title, the length, the illustration, the number of links;
Twitter messages: Consider your photo, the length, and the use of hashtags. How many tweets can you send each day without becoming irritating?
Time of day: What is the best time to post a message: morning, afternoon or evening?
Color usage: Which colors are most striking? Which color generates the most clicks? Which color provokes the most reactions?
Call-to-action: What copy triggers the audience to like, share or comment the most?
The best way to test this is through A/B testing:  Create two versions of the same post, but change one thing, for example 2 different titles. To learn more about A/B testing, please read Noud van Alem's great article about the subject.
One way to track which content piece is performing better is by using UTM codes. UTM code stands for "Urchin Tracking Module." These are pieces of text that you add to a web address. This text provides Google Analytics with more information about the link. With UTM codes, you can see exactly where your website traffic comes from.
If you have successfully completed these 4 steps, you are not only successful in marketing but have also stepped into the data-driven era.
Innovation

Readiness

Benchmark
Great! So you want to measure yourself against best-in-class innovators?

Our Innovation Readiness Benchmark helps you to assess your innovation power and gives you a valuable insight in the areas where you need to improve.
---
Participate in the benchmark
---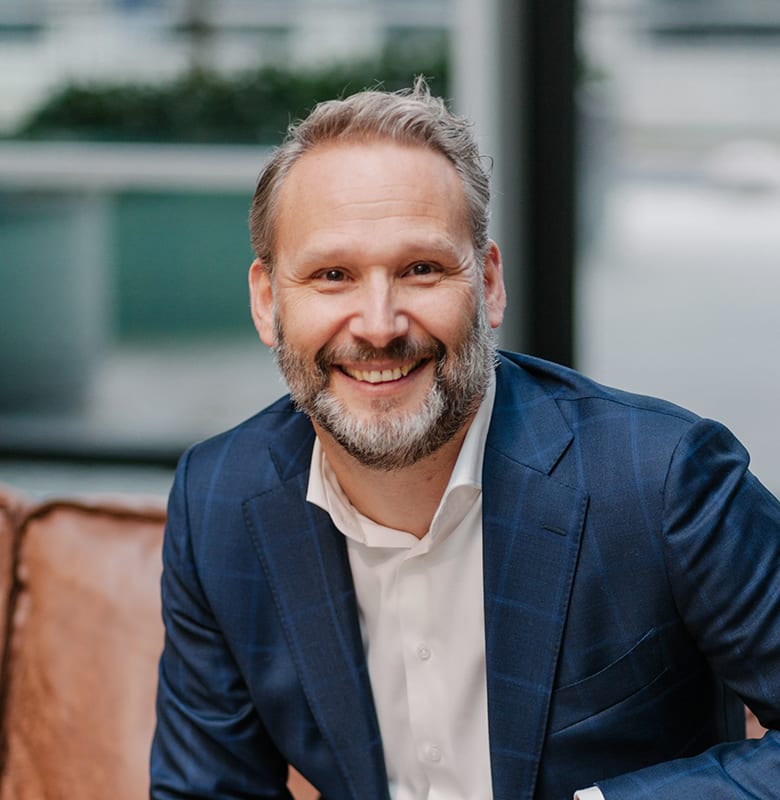 René Jongen
Specialist in top line growth. Supports both corporates that are under a lot of commercial pressure and businesses that are looking for ways to accelerate their growth. Technical physicist. Builds on psychology and neuro-marketing insights.